Análise da Ocorrência de Maquiavelismo e Narcisismo no Discurso nos Relatórios Administrativos de Empresas Envolvidas em Escândalos Financeiros
Márcia Figueredo D'Souza

Universidade do Estado da Bahia -UNEB

Iracema Raimunda Brito Neves Aragão

Universidade Estadual de Feira de Santana

Márcia Martins Mendes De Luca

Universidade Federal do Ceará
Resumo
Objetivo: A motivação deste estudo é examinar a ocorrência de vocábulos que revelem traços linguísticos de maquiavelismo e narcisismo no discurso de líderes de empresas envolvidas em escândalos de corrupção no Brasil, à luz da teoria dos Altos Escalões. Metodologia: Analisamos o discurso de líderes nos Relatórios Anuais das empresas Odebrecht S.A. e OAS S.A. Tais líderes no estudo estão envolvidos em operações fraudulentas detectada operação Lava Jato, uma investigação conduzida pela Polícia federal do Brasil. Os procedimentos metodológicos se fundamentam na concepção tridimensional do discurso: texto, prática discursiva e prática social. Resultados: Os resultados sugerem que a utilização das palavras "nosso/nossos", "mais", "forte", "maior", "grande", "melhor", "confiança", "valores" e "crescimento" remetem a características narcisistas. A análise semântica dos atos de fala nos revela traços maquiavélicos. Contribuição: Espera-se que os resultados dessa pesquisa possam instigar estudos que abordem as mudanças sociais decorrentes da veiculação desses discursos e possam despertar aos principais usuários das informações contidas nas Cartas das Administração de empresas, o reconhecimento de discursos que mascaram a real situação da empresa com intuito de gerar ganhos empresariais e pessoais, sem a preocupação com o prejuízo que podem causar a sociedade como um todo.
Referências
Abatecola, G., Mandarelli, G., & Poggesi, S. (2013). The personality factor: how top management teams make decisions. A literature review. Journal of Management & Governance, 17(4), 1.073-1.100. doi: 10.1007/s10997-011-9189-y
Althusser, L. (1971). Lenin and philosophy and other essays. London: New Left Books.
Bedell, K., Hunter, S., Angie, A., & Vert, A. (2006). A historiometric examination of machiavellianism and a new taxonomy of leadership. Journal of Leadership & Organizational Studies, 12(4), 50-72.
Belschak, F. D., Den Hartog, D. N., & Kalshoven, K. (2015). Leading machiavellians how to translate machiavellians' selfishness into pro-organizational behavior. Journal of Management, 41(7), 1934-1956.
Blickle, G., Schlegel, A., Fassbender, P., & Klein, U. (2006). Some personality correlates of business white-collar crime. Applied Psychology: An International Review, 55(2), 220-233.
Byington, J. R., & Johnson, G. H. (2011). Machiavellianism and accounting competence: effects on budgetary attitudes. Journal of Applied Business Research (JABR), 6(3), 98-104.
Chatterjee, A. & Hambrick, D. C. (2011). Executive personality, capability cues, and risk taking: how narcissistic CEOs react to their successes and stumbles. Administrative Science Quarterly, 56(2), 202-237.
Chatterjee, A., & Hambrick. D. C. (2007). It's all about me: narcissistic chief executive officers and their effects on company strategy and performance. Administrative Science Quarterly, 52(3), 351-386.
Christie, R., & Geis, F. L. (1970). Studies in machiavellianism. New York: Academic Press.
Collins, J. M., & Schmidt, F. L. (1993). Personality, integrity, and white-collar crime: a construct validity study. Personnel Psychology, 46(2), 295-311.
Craig, R., & Amernic, J. (2011). Detecting linguistic traces of destructive Narcissism at-a-distance in a CEO's letter to shareholders. Journal of Business Ethics, 101(4), 563-575.
Deluga, R. J. (2001). American presidential Machiavellianism: Implications for charismatic leadership and rated performance. The Leadership Quarterly, 12(3), 339-363.
D'Souza, M. F., & Jones, D. N. (2017). Taxonomia da Rede Científica do Dark Triad: Revelações no Meio Empresarial e Contábil. Revista de Educação e Pesquisa em Contabilidade (REPeC), 11(3).
D'Souza, M. F. (2016). Manobras financeiras e o Dark Triad: o despertar do lado sombrio na gestão. Doctoral dissertation, University of São Paulo, São Paulo. Available at: http://www.teses.usp.br/teses/disponiveis/12/12136/tde-06052016-110703/pt-br.php
D'Souza, M. F., & Lima, G.A.S.F. (2015). The dark side of power: the Dark Triad in opportunistic decision-making. Journal Advances in Scientific and Applied Accounting, 8(2), 135-156.
Dworkis, K. (2013). The interactive effects of incentive threshold and Narcissism on managerial decision-making. Doctoral dissertation, University of Southern California, Los Angeles, California. Available at: http://digitallibrary.usc.edu/cdm/ref/collection/p15799coll3/id/129532.
Eagleton, T. (1991). Ideology: an introduction. London and New York: Verso.
Engelen, A., Neumann, C., & Schmidt, S. (2016). Should entrepreneurially oriented firms have narcissistic CEOs?. Journal of Management, 42(3), 698-721.
Fairclough, N. (1992). Discourse and Social Change. Cambridge: Polity Press.
Fairclough, N. (2003). Analysing discourse: textual analysis for social research. London: Routledge.
Farwell, L., & Wohlwend-Lloyd, R. (1998). Narcissistic processes: optimistic expectations, favorable self-evaluations, and selfenhancing attributions. Journal of Personality, 66(1), 65-83.
Fehr, B., Samsom, D., & Paulhus, D. L. (1992). The construct of machiavellianism: twenty years later. In C. D. Spielberger & J. N. Butcher (Eds.). Advances in personality assessnrenf, 9, 77-116. Hillsdale, NJ: Erlbaum.
Foucault, M. (1981). The order of discourse. In R. Young (Ed) (1981), Untying the text: a post-structural anthology (pp. 48- 78). Boston: Routledge & Kegan Paul.
Freud, S. (1914). Zur EinfÜHrung Des Narzissmus Jb. Psychoan., 6, 1-24.
Friedrich, P. (1989). Language, ideology, and political economy. American anthropologist, 91(2), 295-312.
Gerstner, W., Konig, A., Enders, A., & Hambrick, D. C. (2013). CEO Narcissism, audience engagement, and organizational adoption of technological discontinuities. Administrative Science Quarterly, 58(2), 257-291.
Giammarco, E.A., Atkinson, B., Baughman, H. M., Veselka, L., & Vernon, P. A. (2013). The relation between antisocial personality and the perceived ability to deceive. Personality and Individual Differences, 54(2), 246-250.
Gouldner, Alvin W. (1976) The dialectic of ideology and technology. New York: Oxford University Press
Hambrick, D. C. (2007). Upper echelons theory: an update. Academy of Management Review, 32(2), 334-343.
Hambrick, D. C., & Mason, P. A. (1984). Upper echelons: the organization as a reflection of its top managers. Academy of Management Review, 9(2), 193-206.
Hartmann, F. G. H., & Maas, V. S. (2010). Why business unit controllers create budget slack: involvement in management, social pressure, and machiavellianism. Behavioral Research in Accounting, 22(2), 27-49.
Hartog, D. N. H., & Belschak, F. D. (2012). Work engagement and machiavellianism in the ethical leadership process. Journal Business Ethics 107(1), 35-47.
Jain, K., & Bearden, J. N. (2011). Machiavellianism and overconfidence. [Working Paper]. Social Science Research Network. Available at: http://papers.ssrn.com/sol3/papers.cfm?abstract_id=1774523
John, O. P., & Robins, R. (1994). Accuracy and bias in self-perception: individual differences in self-enhancement and the role of Narcissism. Journal of Personality and Social Psychology, 66(1), 206-219.
Jones, D. N. & Paulhus D. L. (2009). Machiavellianism. In M. R., Levy, & R. H., Hoyle. (Eds.). Individual differences in social behavior (pp. 93-108). New York: Guilford.
Jones, D. N., & Paulhus, D. L. (2011a). Differentiating the dark triad within the interpersonal circumplex. In L. M., Horowitz, & S., Strack. Handbook of interpersonal psychology (pp. 249-269). New York: Wiley and Sons.
Judge, T. A., Piccolo, R. F., & Kosalka, T. (2009). The bright and dark side of leader traits: a review and theoretical extension of the leader trait paradigm. The Leadership Quarterly, 20(6), 855-875.
Kiazad, K., Restubog, S. L. D., Zagenczyk, T. J., Kiewitz, C., & Tang, R. L. (2010). In pursuit of power: the role of authoritarian leadership in the relationship between supervisors' machiavellianism and subordinates' perceptions of abusive supervisory behavior. Journal of Research in Personality, 44(4), 512-519.
Maccoby, M. (2004). Narcissistic leaders: the incredible pros, the inevitable cons. The Harvard Business Review, 78(1), 68-78.
Murphy, P. R. (2012). Attitude, machiavellianism and the rationalization of misreporting. Accounting, Organizations and Society, 37(4), 242-259.
Nadkarni, S., & Herrmann, P. (2010). CEO personality, strategic flexibility, and firm performance: the case of the Indian business process outsourcing industry. Academy of Management Journal, 53(5), 1.050-1.073.
Olsen, K. J., & Stekelberg, J. M. (2015, Janeiro). CEO Narcissism and corporate tax policies. [Working Paper]. Available at: http://www2.aaahq.org/ata/meetings/2015/CEONarcissismandCorporateTaxShelteringJATAConference.pdf
O'Reilly, C. A., Doerr, B., Caldwell, D. F., & Chatman, J. A. (2013). Narcissistic CEOs and executive compensation. [Working Paper Series]. Social Science Research Network – The Leadership Quarterly. Available at: http://dx.doi.org/10.1016/j.leaqua.2013.08.002
Papadakis, V. M., & Barwise, P. (2002, Março). How much do CEOs and top managers matter in strategic decision-making? British Journal of Management, 13(1), 83-95.
Raskin, R., & Terry, H. (1988). A principal-components analysis of the narcissistic personality inventory and further evidence of its construct validity. Journal of Personality and Social Psychology, 54(5), 890-902.
Rijsenbilt, A., & Commandeur, H. (2013). Narcissus enters the courtroom: CEO Narcissism and fraud. Journal of Business Ethics, 117, 413-429.
Shafer, W. E., & Wang, Z. (2011). Effects of ethical context and machiavellianism on attitudes toward earnings management in China. Managerial Auditing Journal, 26(5), 372-392.
Stein, M. (2013). When does narcissistic leadership become problematic? Dick Fuld at Lehman Brothers. Journal of Management Inquiry, 22(3), 282-293.
Thompson, J. B. (1934). Studies in the theory of ideology. Cambridge: Polity Press.
VandenBos, G. R. (2007). APA dictionary of psychology. American Psychological Association.
Van Dijk, T. A. (2008). Discurso e poder. São Paulo: Contexto.
Vladimir, Netto. (2016). Lava Jato: O Juiz Sergio Moro e os bastidores da Operação que abalou o Brasil. 1 ed. Editora Primeira Pessoa.
Vladu, A. B. (2013). Machiavellianism and short-term earnings management practices. Annales Universitatis – Apulensis Series Oeconomica, 15(2), 467-472.
Wilson, D. S., Near, D., & Miller, R. R. (1996). Machiavellianism: a synthesis of the evolutionary and psychological literatures. Psychological Bulletin, 119(2), 285.
Woolard, K. A. (1992). Language ideology: issues and approaches. Pragmatics, 2(3), 235-249.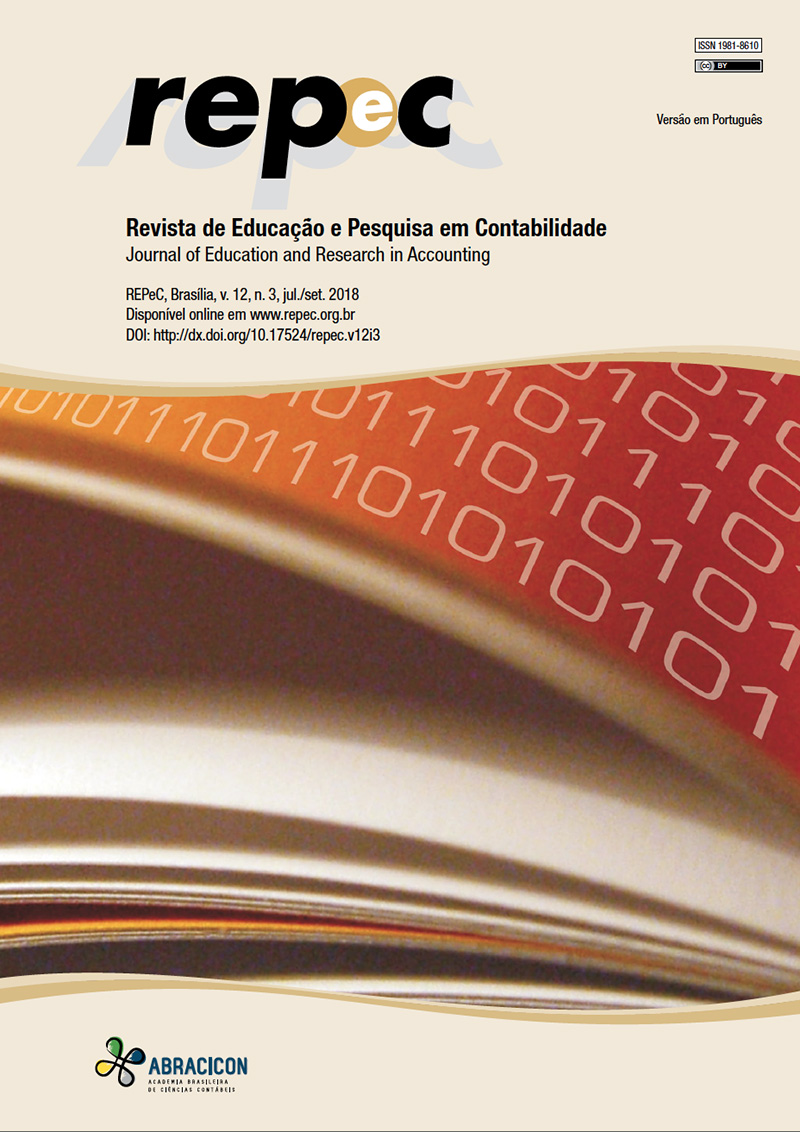 Como Citar
D'Souza, M. F., Aragão, I. R. B. N., & De Luca, M. M. M. (2018). Análise da Ocorrência de Maquiavelismo e Narcisismo no Discurso nos Relatórios Administrativos de Empresas Envolvidas em Escândalos Financeiros. Revista De Educação E Pesquisa Em Contabilidade (REPeC), 12(3). https://doi.org/10.17524/repec.v12i3.1899
Copyright (c) 2018 Revista de Educação e Pesquisa em Contabilidade (REPeC)
This work is licensed under a
Creative Commons Attribution-NonCommercial-NoDerivatives 4.0 International License
.
Autores que publicam nesta revista concordam com os seguintes termos:
a) Autores mantém os direitos autorais e concedem à revista o direito de primeira publicação, com o trabalho simultaneamente licenciado sob a Licença Creative Commons Attribution 3.0 Unported License, que permite o compartilhamento do trabalho com reconhecimento da autoria e publicação inicial nesta revista. Esta licença permite que outros distribuam, remixem, adaptem ou criem obras derivadas, mesmo que para uso com fins comerciais, contanto que seja dado crédito pela criação original.
b) Não cabe aos autores compensação financeira a qualquer título, por artigos ou resenhas publicados na REPeC.
c) Os artigos e resenhas publicados na REPeC são de responsabilidade exclusiva dos autores.
d) Após sua aprovação, os autores serão identificados em cada artigo, devendo informar à REPeC sua instituição de ensino/pesquisa de vínculo e seu endereço completo.